Brooke Wright & The Purple Gang
Elvis Tribute Show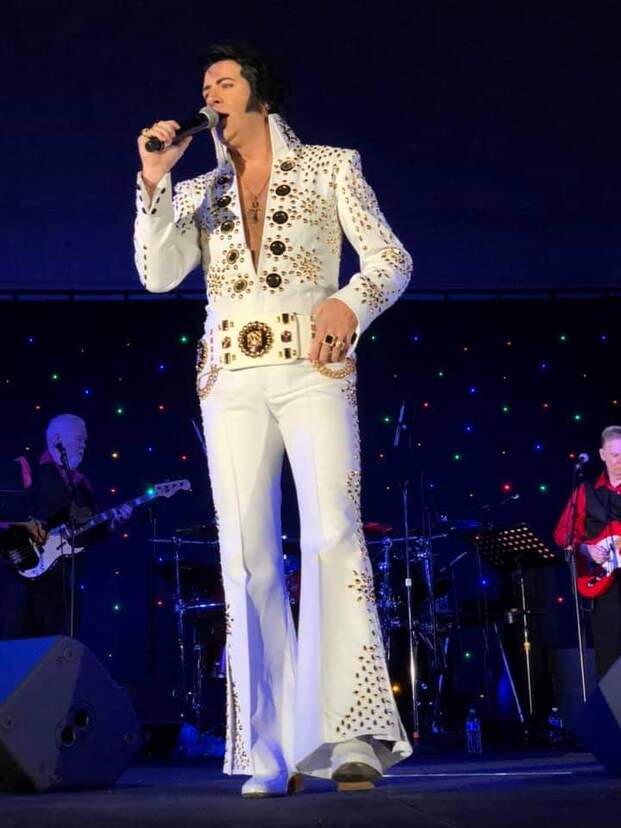 ​Brooke Wright, a Nashville native has been entertaining audiences for more than 20 years as a professional Elvis Tribute Artist (ETA) while also performing and writing original country and blues music. In 2021, Brooke placed Top 5 in Images of the King in Memphis, Second place in the Tupelo Elvis Festival and Grand Champion of the Branson Elvis Festival. Brooke and his dynamic band Purple Gang focus on capturing that RAW live concert energy that Elvis was known for throughout the 1970's. What the audience will experience is a journey through that powerful and electric era of Elvis live in concert. The look, the moves, the sounds and "THE VOICE" that cemented Elvis Presley as a true music icon.
​
JEFF HOLLANDSWORTH, keyboards
​Before moving to Nashville in 1993, Jeff Hollandsworth was the creative force behind The Hollanders, a nationally-known show group that toured the US for over a decade. He arranged the music, vocals, horns and wrote the shows for the band throughout their career. Since arriving in Music City, he has worked in music publishing, has operated a recording studio, has been involved in a variety of bands and session work.

TONY MAC, drums
Tony Mac has recorded with producers Brendan O'Brien (Aerosmith, Red Hot Chili Peppers) and Tom Harding (ZZ Top, Reba) among others, and toured with numerous groups including: Doro Pesch, Ruscha, Rockie Lynne, Justin McBride, Porter Howell (Little Texas), John Cowan (Doobie Brothers) and Elvis tribute artist Wade Cummings. TV credits include ABC's Good Morning America, CMT, and GAC. Tony also runs an entertainment business booking Nashville's finest talent at a wide array of corporate events.

BOB OCKER, guitars
Pennsylvania-raised guitarist, moved to Tennessee in the early '80's and immediately toured the Southeast with artist Kenny Durham. Soon after, he joined the regional alternative band, The Movement. He has recorded with and performed with artists such as Chelle Rose, Stacie Collins, Joe Blanton, Stella Parton, Barbara Fairchild, Nat Stuckey and Dolly Parton. He is also a founding member of Southern Accents, America's favorite tribute to Tom Petty and The Heartbreakers.

JEFF DALZELL, bass guitar
Jeff's musical journey brought him to Nashville, TN in the late 1970's. He started sitting in with songwriters in town and began doing commercial studio work. He worked with Wade Cummins, one of the first Elvis tribute artists, sharing the stage with the likes of Jerry Lee Lewis, Chuck Berry and Bo Diddly and in Nashville's Printer's Alley. He began working with Jeannie C. Riley in the 80's, playing internationally, on the Grand Ole Opry and TV. He also worked with Canadian artist Ray Griff and appeared in Las Vegas.