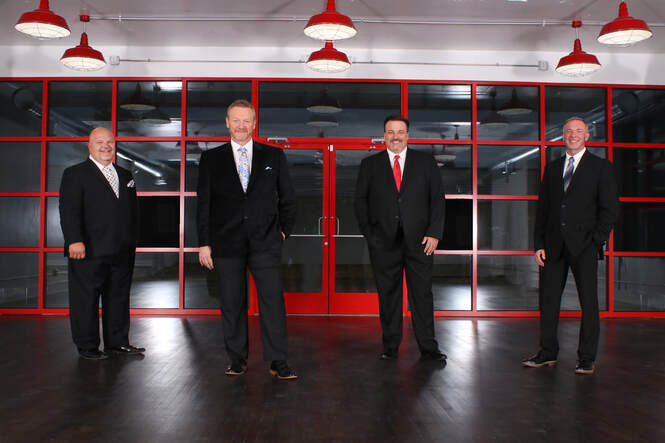 Thirty years can seem like a lifetime to many, but to others it's just the beginning. That's how Tim, Mark, Carl, and David felt in 2011 when they joined voices to create that great Southern Gospel quartet sound of Justified Quartet! Individually, each of these truly gifted and accomplished men have shared their talents and love of Southern Gospel music across the state. Combined, they have over 30 years of experience that shines through each and every time they take the stage! Every great quartet possess a solid foundation and Justified Quartet is no exception! Tim Caldwell provides that solid ground with his smooth bass vocals. Growing up with east Tennessee roots, Tim fell in love with Southern Gospel music at a very young age. That deep love found him playing drums for the popular Calvarymen Quartet, singing with the vocal group Chosen, and partnering with a long time friend as co-owner of Northwind Recording Studio. Tim lives in his childhood hometown of Swartz Creek, Michigan, with his daughter Kelsie. Born and raised in Michigan, Mark Jacoby has been singing gospel music most of his life. For over a decade, he blessed listeners as a member of Praise Quartet and then spent another decade singing with The Calvarymen Quartet. Mark's incredible baritone vocals glue together that warm sound that Justified Quartet fans have grown to love! Mark and his wife Deana make their home in Akron, Michigan, where they are full-time farmers. They have three children and a beautiful granddaughter. Southern Gospel music took root in Carl Ledford at the tender age of six. Those roots remained strong throughout the years while on stage with groups such as The Gospelmen, The Calvarymen, and One Destiny. Passionate for sharing the Message of Christ through song, Carl also served as worship leader at his church from 2001 – 2011. Carl now blesses Justified Quartet with his strong lead vocals as well as his God given writing talent. Carl and his wife Tracey live in Flushing, Michigan. They share 5 children and have 4 wonderful grandchildren.
Introduced to Southern Gospel music in 1993, David Potts found himself undeniably drawn to the quartet sound. Before joining Justified Quartet, David was a member of The Gospelmen Quartet, the "go to man" for many groups in need of an occasional fill-in tenor singer, and then later with Reconciled Quartet. David is currently an active member of his local church. He joins the choir and praise team on stage when he is not traveling the country with Justified Quartet. David's amazing voice adds that element of excitement only a gospel tenor can bring to the stage! David and his wife Donita live a very active lifestyle in Lennon, Michigan. They have two children and a beautiful granddaughter.
Sharing the Word of Christ through song,
to people far and wide, is not a task to be taken lightly. Justified Quartet's mix of phenomenal musical
talent proves these guys are equipped
to do just that!
Tim Caldwell
Tim has been around Southern Gospel music all of his life, beginning with family roots in Eastern Tennessee. He fell in love with Southern Gospel at an early age, and as a teenager played drums for the Calvarymen Quartet. He is co-owner of Northwinds Recording Studio, and has engineered many projects for other groups. He sang with Chosen, and now sings bass for Justified. Tim and daughter Kelsey live in Swartz Creek, Michigan.
Mark Jacoby
Mark was born and raised in Michigan and has been singing most of his life. He sang with Praise Quartet for ten years and with the Calvarymen Quartet for ten years. Now singing baritone with Justified, he continues to minister and bless everyone around him. Mark, his wife Deana, and three children live and farm in Akron, Michigan.
Carl Ledford
Carl has been singing gospel music since he was 6 years old, and continues to use his God-given talent writing songs and signing lead for Justified. He is currently the Praise and Worship Leader at New Testament Church and has been leading praise and worship for 10 years. Groups he has sang with include The Gosplemen, The Calvarymen, and One Destiny. Carl, and his wife Tracey, live in Flint, Michigan. They have 5 children and 4 grand-children.
​
David Potts
Dave has lived in Michigan all his life. He was introduced to southern gospel music in 1993 and has been involved ever since. He has been with the Gospelmen Quartet, Reconciled, and has filled in for other groups on many occasions. He is an active member of his church, has sung in the choir and on praise teams. Dave now sings tenor for Justified. Dave, his wife Donita, and two children live in Lennon, Michigan and enjoy active lifestyles.