RECKLESS
BRYAN ADAMS TRIBUTE BAND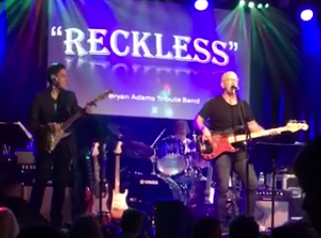 Ron Hemby is a recording artist, session singer and song writer. In 1986, Ron joined The Imperials as the lead singer. During his five year stint with the group, Ron's voice was heard on several number one and top ten singles. In 1996, Ron (along with John Dittrich from Restless Heart and Charley Kelly) formed the country trio "The Buffalo Club". The band had top ten and top twenty hits.

In 1993, Ron was signed as a staff writer for Peer Music in Nashville, TN. While writing country songs and singing demo sessions, Ron met former "Little River Band" member Beeb Birtles. In 1995, Ron and Beeb joined forces with former "Restless Heart" member John Dittrich.The three got the attention of legendary record producer Barry Beckett and began to record songs for what would ultimately be "The Buffalo Club". After several personnel changes, Ron, John and (new member) Charlie Kelly Released "The Buffalo Club" in January 1997 on the Rising Tide label. The Buffalo Club's first single "If She Don't Love You" went to #8 on the country charts. The second single "Nothing Less Than Love" went to #21. The third single "Heart Hold On" went to top 30 despite of rumors that the band was breaking up. In October of 1997 the group disbanded. The following year Ron went on the road with country singer David Kirsch. In 1999 Ron was asked to be the Music Director for Cross Roads Community Church in Franklin, TN. and was there until 2002. While directing music for CRCC, Ron continued to do sessions and write songs. In 2002, Ron's song "Innocence Lost" was recorded by Amy Grant. Ron also co-produced and played bass and guitar on the track. That same year, along with friends Billy Simon and Jimmy Lee Sloas, Ron signed a record deal with MCA Records. The band, "Chester Whyte", recorded a project that was never released. In February 2003, Ron returned to Palm Beach Community Church for a short stint as Music Director, returning to Nashville the following year to see "Diamond Rio" record "Get Away" written by Ron, Billy Simon & Jimmy Sloas (a Chester Whyte song).

In recent years, Ron has toured with Jimmy Wayne, Katrina Elam, Clint Black, Kristina Cornell, Chris Cagle and Peter Cetera, and since 2010 has been leading worship at River Of Life in Smyrna, TN.

Ron's discography is too long to list but includes the likes and range of artists like Amy Grant to Edwin McCain and Cece Winans to Dusty Springfield. Ron continues to write songs, record and perform live, and calls Nashville, TN home with his wife Cindy and their beautiful daughter, Amelia.