The Sharps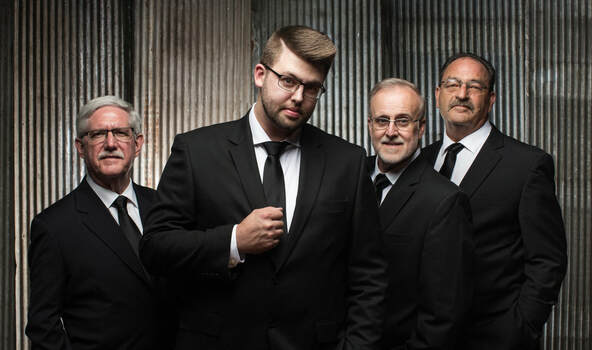 A CONTINUING LEGACY
35 YEARS AGO OUR FOUNDER, JOEL SHARP, STARTED WHAT YOU SEE AND HEAR TODAY
The Sharps, a Southern Gospel Quartet, was organized 35 years ago with the goal of ministering to the Troubled and the Lost, about our savior, "Jesus Christ". Knowing that through their own efforts are nothing but directed and guided by God they can accomplish all things. Although the quartet was formed over 30 years ago, the current lineup definitely has special things in store. Today, the group's personnel have a mixture of both youth as well as plenty of experience.
​
THEN...
Way back in 1984, the ORIGINAL members of "The Sharps" at that time were all family members or somehow tied into the family. And the group stayed that way until 1989. The group traveled and sang for over 20 years with a live band until the economy crashed in 2008. However, the group has been fortunate to not see that many changes in personnel. When Joel, the founder of the group, retired in 2012 the group faced its' toughest task - whether to retire the group OR recreate an image that many had known for 25 plus years. Andy, who is the last original member that STILL travels and sings today, stepped into the "leader's" shoes and decided (with the help of his son Ben) the group would continue on until God said it was time.
​
NOW...
​
The group is still based out of Fort Payne, Alabama. While the group shares the notoriety of being from the same hometown as the Country music supergroup, Alabama, they are leaving their own mark on music, just in the gospel music side. While traveling mainly a five-state area in the Southeast, the quartet has a full time singing schedule. The quartet is comprised and owned by father and son,

Andy

and

Ben Sharp

, who sing tenor and baritone parts respectively. They are also joined by their lead singer

Mike Leath

, who has over 10 years with the group. And their newest member to the quartet, bass singer,

Mike "Smitty" Smith.
​
Their recent success has brought upon several award nominations, several hit radio singles such as "He Built a Bridge" (2015) and 3 songs that have recently charted in Singing News Magazine in the last year.

"He's the Rock #70 (May 2017)

,

"Upon This Solid Rock #51 ( Aug 2017)

, and their current

"Standing in the Storm #41 (NOVEMBER 2018)
​
​
AUGUST 4, 2018
​
(FORT OGLETHORPE, AL) The Sharps owner and last original member Andy Sharp, was inducted in the Tri-State Gospel Music Association (TSGMA) Hall of Fame for his 34 years of service with the ministry of The Sharps.