about april potter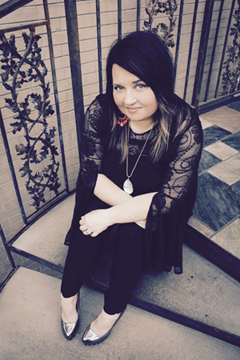 Getting to know the woman behind AP
April Potter Agency is a full-service, exclusive booking and management company located in Nashville, Tennessee serving such venues as arenas, auditoriums, churches, fairs, festivals, schools, city events, coffeehouses, and theme parks, with a variety of artists in genres such as Gospel, Christian, Country, Folk, and Americana styles.
Potter brings to her agency 20 years of experience in the music industry. In 1996, she began working for The Harper Agency, and later formed her own company in 2002, where she represented some of the most popular names in gospel music. She returned to work for Harper in 2010 for two more years, before she left to homeschool her daughter. Since that time, she's worked as a free lance agent and consultant in multiple areas of the industry, including management, marketing, radio, publicity, and booking, both stateside and worldwide. In May of this year, she relaunched April Potter Agency.
Potter, a Franklin County Alabama native and Music Business graduate of University of North Alabama, currently resides in Nashville with her family.
April Potter Agency Mission Partner - Hope For Home Ministries
Our 'Why' For Partnering With a International Mission Partner
April has had a heart and has been moved by missions since she was 4 years old and her dad went on two mission trips to Mexico and Honduras. She remembers looking through pictures and watching slide shows of the trip as a small child. As she became older, she had a deep desire to adopt a child from an orphanage in a Spanish speaking country. She knew God has said, she was to adopt a daughter and she would be Spanish. She was tenacious in raising all the funds needed through garage sales, bake sales and benefits to bring home her little girl Chloe at age 18 months who is now age 9 years old. Even though, adopting was a fulfilled call, April began struggling with the idea of going to serve in the home country of her daughter on a mission trip to Guatemala in a special needs ministry. She finally answered the call in April of 2016, and after returning God led her to open the April Potter Agency back after a several year sabbatical. Her desire to continue support in the ministry, she served in lay heavy on her heart. April shares, "It is one thing to not know and do nothing, but once you go and see the great need, there is no way of blocking the needs or children out of your mind. I literally wake up every day living in both worlds, wondering what is happening in Guatemala and what challenges and needs they being faced with today. In January of this year, I began to be challenged about donating a portion of our company proceeds to this ministry on a monthly basis. Since I have been and served as part of this ministry I feel confident that 100% of the funds are being used in the right way and we are so honored to be a small part of what they are doing in helping educate, care and love on these special needs orphans.
Who is Hope for Home Ministries?
Hope for Home Ministries was founded in August 2008 by Daryl and Wanda Fulp. Having adopted three children with special needs internationally, their eyes had been opened to the plight of orphans and physically and mentally challenged children in developing countries, and they longed to do something to make a significant impact.
In the early days, Hope for Home was an advocacy ministry that shared the needs of these children with the church and sought to pair Christian families with children through adoption and leading short-term ministry trips to Guatemala. But in 2009 Daryl and Wanda felt God's call to something more. They placed their home on the market, sold most of their possessions, and moved themselves and their nine children to Guatemala in January 2011.
There, along with a team that God brought together, they established a rural village ministry that provides assistance to children with special needs. They also opened a family-based group home for children with special needs, Hogar de la Esperanza (Home of the Hope).
From there ministry has grown, both in Guatemala and in Africa. Currently Hope for Home is working to open a second home in Guatemala and its rural village ministry will soon expand into seven of Guatemala's 22 departments, with long-term plans to establish ministry in every department. Meanwhile, a new group home is in the works in Uganda, Africa along with a sponsorship program in Liberia, Africa.
In January of this year, Michael and Kelly Gross, along with their children, moved to be full time missionaries in Guatemala. They will be the directors of the second group home, Hogar de La Fe. April met fellow Guat mom, Kelly while in the process of adopting her daughter, Chloe from Guatemala. Kelly had just completed her adoption of a baby boy from Guatemala and was instrumental in helping complete Chloe's adoption paperwork. Kelly and April remained close friends and in April of 2016, they were finally able to fulfill a dream of serving together in the birth country of their children, Guatemala at Hope for Home Ministries.
Step-by-step, God is blessing and building this ministry for his glory!
testimonials
Working with The April Potter Agency was not only easy, but very comfortable. She made me feel like I was a part of the family, and treated me and everyone I worked with, with true southern charm. She is our preferred booking agent to use for all our venues.

A. Krume
Working with April has been a real joy. We have had a variety of artist over the years and we always trust her to bring us the very best in not only talent but artists who also minister to our congregation. She and her staff go above and beyond to make sure we have all we need in promoting the concerts. We look forward to long relationship with her and her agency.

Pastor Jay Dixon