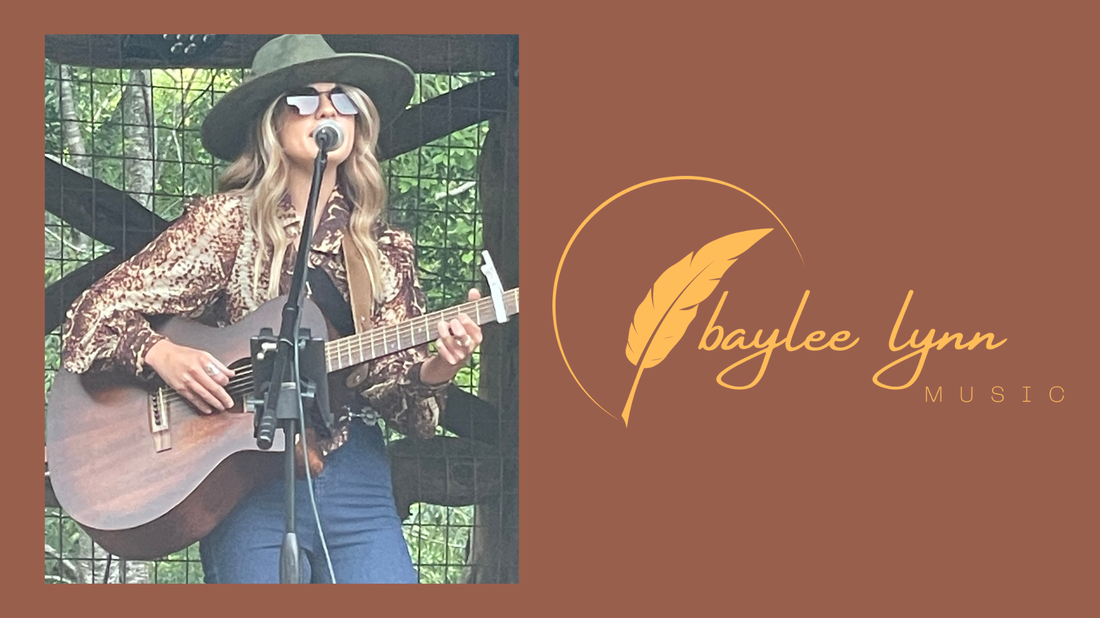 Music roots run deep and thick in Baylee Lynn's family. It was if it was destined that she would end up playing and singing with so much family that were musicians back through the generations. It all started for Baylee, in her hometown at church. Her mom and dad both sang and played and eventually invited her to join them on stage.
At 6 years old, her dad surprised her with a Baby Martin Guitar. "Buddy shares, "She was trying to play my old guitar but it was just too big for her little hands." He taught her a few basics and then she just picked it up by ear. She does not read any music. Just like the guitar, she is self-taught on piano as well. Her grandmother taught her a few chords and she just naturally hears the music. Her talent is God-given. Her mom Anna adds, "Baylee was always singing and dancing from a very early age. Over the years, as she started playing different instruments, it just seemed to come naturally for her. I knew at age 7, she was something special!"
At the age of 15, this rising young star, not only sings and plays but is a very promising up-and-coming songwriter in her own right. She wrote her first song in February of 2020. It was a love song. When asked why at her age would she want to write a love song, she replied, "I have heard all of these different country singers write their versions of love songs but I wanted to write my version." She has written countless songs in the past 3 years. Even at her young age, she has something to say.
Baylee is ear marked way above her years in maturity and talent. She shares, "Music to me is a like therapy and a way I can just be myself. It has always been my little getaway. Now, I want to share music with others as an encouragement and reminder that you can do anything that you put your mind too. I absolutely love being on stage and singing."
Her top musical influences are Dolly Parton, Reba McEntire, Lainey Wilson and Megan Moroney. Baylee interjects, " I love how Dolly has always just been herself and loves helping others. Reba just has this 'go out there and get it done' kind of attitude. Musically, I am inspired by both Lainey and Megan and when I hear their music, it makes me want to create more songs for people to love and enjoy."
When asked about a song that has most influenced her, Baylee says "Girl Going Nowhere" by Ashley McBride is the song. The song talks about how so many people tried to stop her from pursuing her dreams and she didn't listen to their negativity. She instead kept pushing to get to where she is today. It is a song Baylee relates to in her short years pursuing her dream. "The song brings me to tears every time I hear it. I have faced some negativity over the years and the song just gives me a push of confidence," says Baylee.
Baylee has some big dreams and she is well on her way to accomplishing them. Two of the things she wants to focus on, is putting out her music and helping people. She dreams of playing the Grand Ole Opry one day and becoming inducted. She also would love to play the Ryman Auditorium and Red Rocks.
If you could sum Baylee Lynn up in just a few words… it might look something like this: Talented, Gifted, Authentic, Unique, Bubbly, Out-going, Loving and Caring.
Baylee shares, "If I could give advice to someone who is just starting to chase their dreams, I would say NEVER GIVE UP! It can be a long, sometimes rocky road that is painful but worth it. There are a lot more no's than yes's but I promise you if you keep your head on straight, look toward the stars you can do whatever you want to do. I am living proof."
When she is not on stage performing, Baylee loves to go hunting and camping but her favorite is spending time with her family.